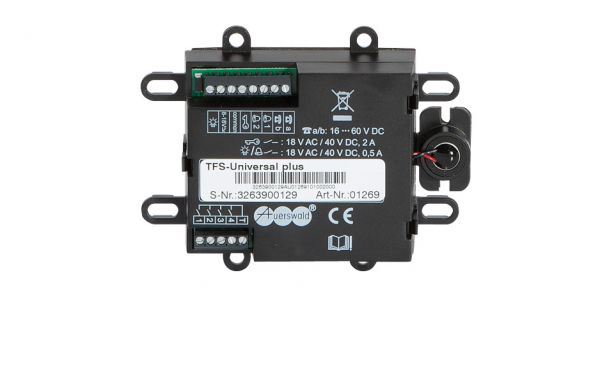 Order number:

90667

Product weight:

0.22 kg
Perhaps you want to use new technology in your existing system? The TFS-Universal plus is our...
more
Product information "TFS-Universal plus"
Perhaps you want to use new technology in your existing system? The TFS-Universal plus is our installation variant for precisely this requirement. The TFS-Universal plus fits in an existing letter box or in the recess of your existing door terminal system.
This analogue variant of our door phone systems is also connected directly via a two-core cable to an analogue subscriber port of your ICT system.
Technical Highlights:
Universal door phone system for installation in existing door terminal and letter box systems
Radial lug arrangement - easy screw mounting
Large adhesive pad – remove the protective film and apply
Microphone can also be mounted separately from the casing
Operation on the analogue extension connection of a ICT system from the own or other brands
Programming of phone numbers and functions by telephone and TFS-Set Windows software
Two levels of sensitivity for noisy and quiet environments
Switch contacts for door opener, doorbell and light (doorbell transformer required)
Additional switching options with optional a/b Switching Modules
Letter signalling (new letter in the letter box) using letter box contact
Automatic door opener (e.g. automatic door opening during surgery times)
Input can be used for stopping the call (the telephone stops ringing after the door is opened using an optional door contact)
Input can be used as a door opener key
Room monitoring (e.g. as an audio baby monitor with destination number dialling)
Operation as an intercom device (call acceptance and call end controlled using a key)
1–4 doorbell buttons using screw terminals, optional use as a light key
Excellent sound due to high-quality microelectronics
Scope of delivery:
Door phone TFS-Universal plus
Connection and user manual
| | |
| --- | --- |
| PBX / ICT systems: | COMmander 6000(R/RX), COMmander Basic.2 (19"), COMpact 3000, COMpact 3000 ISDN/analog, COMpact 3000 VoIP, COMpact 4000, COMpact 5000, COMpact 5000(R), COMpact 5010 VoIP, COMpact 5020 VoIP, COMpact 5200(R), COMpact 5500R |
Interface, supply connection: Analogue subscriber port / extension of the ICT system Dial...
mehr
Interface, supply connection: Analogue subscriber port / extension of the ICT system
Dial mode: tone dialling (DTMF)
Power supply via analogue extension port (PBX): 16 V – 60 V DC
Power supply via doorbell transformer (optional): 8 V – 18 V AC
Loop power, depending on operation mode: <1 mA / 20 mA – 60 mA
Temperature range: -20 °C – +50 °C
Maximum load door opener: 18 V AC / 40 V DC, 2 A
Maximum load doorbell and lighting output: 18 V AC / 40 V DC, 0.5 A
Loudspeaker: Ø 50 mm
Housing material plastic, black: plastic, black
Dimensions (w x h x d): 109 mm x 84 mm x 29 mm
Weight: approx. 80 g